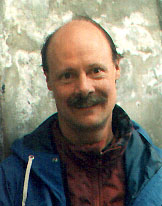 R(andall) R(ush) Wayne, the inventor of the peroxide method and author of Growing Mushrooms the Easy Way, holds a Masters degree in Biochemistry and Molecular Biology from Harvard University and a Ph.D. in Biochemistry from the University of California. He was first exposed to the elements of mushroom growing during his graduate work in the 1970's but did not begin growing mushrooms in earnest until 1993, when he began to implement the innovations he conceived and later compiled in the peroxide manual. Instructions for his peroxide method of growing mushrooms are now in the hands of mushroom growers in over 90 countries around the world.

His other interests include permaculture and sustainable development, alternative health care, voluntary simplicity, neuroscience, and classical piano. He has been married since 1983 and has one child.

You can contact Dr. Wayne at rushwayne@aol.com.

End of Slideshow.
This document Copyright 2000 by Randall R. Wayne, Ph.D. All rights reserved. No part of this work may be reproduced or used in any form or by any means without permission of the author.